For the past nine years it has been my burden and my joy to care for my elderly grandmother, Ms. Lois Rainwater. Last month her health took a serious turn for the worse, and she finally passed away in the wee hours of the night on March 23rd. What follows is my eulogy to an amazing woman who was my grandmother, my roommate, and my friend.
Remembering Lois Rainwater
December 7, 1920 – March 23, 2008
By Bronwen Aker, granddaughter and former caregiver.
Delivered at the Unitarian Universalist Church of Studio City
12355 Moorpark Street, Studio City, California 91604
April 5, 2008
It is impossible to distill 87 years of anyone's life into ten or so minutes, so what I'm going to try to do is to share with you some lesser known details about a remarkable woman whom we all knew, and yet who managed to remain very private, even from those who knew her well.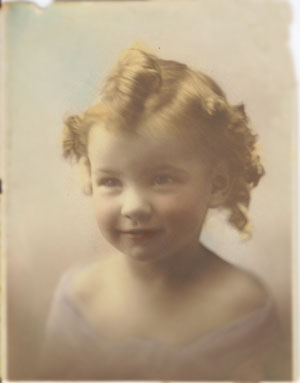 Lois was born on December 7th, 1920. She was the second child for William Bradley Scheer and for his wife, Mabel Eleanora Titus Scheer. Their first-born, Bradley, had been born almost exactly six years earlier, and as far as I know Bradley performed his duties as an older brother with care and diligence, so much so that Nana used to say that, while she was growing up, she had three parents, not just two.
Lois's parents were very progressive for their times. William was a successful insurance salesman, and Mabel was a teacher who worked with "special needs" children. Unlike the average woman of the day, Mabel had a college degree and often drove great distances to work with children whose challenges kept them from participating in regular classrooms. The Scheers were also avid hikers, and vacations were typically spent in the family cabin nestled in the San Gabriel Mountains, in Santa Anita Canyon not far from here. It was in those mountains that Lois learned her love for Nature, and it was from her family that she learned her love for learning.
When she was sixteen, Lois encountered another of her great loves, perhaps the greatest one of all. While on her first real date with a boy from her high school, she was introduced to the boy's scout master, a Mr. Schneider who was chaperone and organizer of a church youth group outing to the Ocean Park pier. The evening was one of carnival rides and games and such, but Lois was never one for rollercoasters. As a result, she spent much of the evening on the ground, chatting with Mr. Schneider, while her date rode the more adventurous rides. Because Lois was very used to speaking with adults, and spent many hours with her old brother, she was in no way intimidated by Mr. Schneider, who was twenty-four at the time. Soon she began attending other church group functions, and some time later they began dating. They were married four years later on December 1, 1940.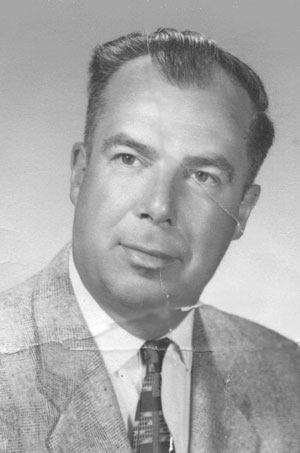 Much is known and has been said about my grandfather, Herbert John Schneider, how he founded and built this church, but less is known about Lois's part in Herb's achievements. Part of it was the culture of the 40's and 50's, but not all of it. Lois always preferred to work in the shadows, never taking credit for her contributions to the changes she helped bring about. Well, I hope you'll forgive me, Nana, but you're about to be outted.
The building in which we stand and sit would not exist had it not been for Lois. Grampy knew that he wanted to follow his mother into ministry, but he lacked confidence in his own ability to help people in a meaningful way. In the days before anything was known about dyslexia, Herb believed that he was dumb and slow. Lois bolstered Herb's confidence, and served as sounding board, confidant and co-conspirator. She worked with Herb from the beginning, discussing and planning Herb's first ministry, and helping him with their first church service, which was held in a rented building and attended by all of ten people. Later, when this building was constructed, Lois taught its first Sunday school classes. It was, in fact, Lois who discovered Unitarianism in the late 50's. Herb and Lois had long since fallen away from the Unity School of Christianity in which Herb was originally ordained because they disagreed with several core concepts held by that tradition, but they had yet to find another established path that suited their own beliefs about how people worked and worshipped.
As Nana told it, she was looking for teaching materials for the Sunday school classes and came across some book written by the Unitarians. Later, she went home and said to my grandfather, "Herb, we've been Unitarians all along!"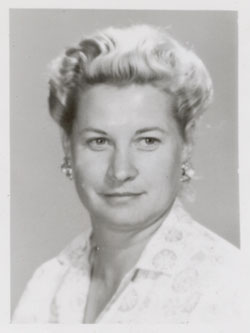 Lois worked in the office, worked on the newsletter, sang in the choir, and took care of countless other things, great and small, always supporting Grampy and his vision for the church, in addition to raising four children at home. Unfortunately, that part of her life didn't have a happy ending. When my grandfather got sick in the early 1960's, well, Nana went a little nuts. In those days little was known about Alzheimer's, let alone the early onset variety that struck my grandfather down in his forties, in his prime, robbing him of his mind and his vitality before finally taking his life in 1967. Grampy was the one and only true love my grandmother ever knew, and without him she was lost, hopeless and desperate.
Her second husband, Richard Rainwater, was unlike my grandfather in every way. He was a construction worker, and an alcoholic, and their years together were filled with chaos and craziness. It was a dark time for our entire family, and none of us believed then that the darkness could ever be broken.
But Nana was nothing if not stubborn. The way she told it to me, she realized one day that she didn't have to live with the yelling and the turmoil. She decided enough was enough, and once she made the decision to divorce the wheels of change began to turn. Soon afterwards, in 1977, she ran away from home for a day, briefly escaping her ex-husband and teenagers to go camping with her dogs in the local mountains. It was then that she discovered by chance a house in the mountains above Tujunga was for sale. Soon afterwards she sold her house in Studio City, bought the mountain cabin with the proceeds and moved to the wilderness, where she lived until she died.
Things were still rough for us as a family, however, and after the move Nana continued to drink, perhaps more so than before now that she was on her own and isolated. Finally, in the early summer of 1978, all four of Lois's children told her they had had enough. They broke with her over her drinking, and the thought of losing her children was the final straw. She hit bottom, got sober, and never drank again. I was 14.
Through AA Nana found new friends and new tools for living. She retired from teaching after 20 years of working with children, mostly fourth and fifth graders. But Nana was not built for idle time, and so she began to take classes in the arts, from watercolor and drawing to calligraphy. But nothing really fit. Then, in 1985, she took her first class on weaving with natural materials through the UCLA Extension program.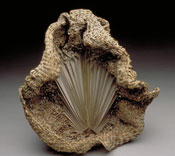 At first with hesitation, and later with joy, Lois discovered her own creativity. But she could not keep from teaching, and soon she was offering classes on basketry in her home, at the local junior college, and in other locations all over the state.
Today the list of her students forms the who's who of Basketry and Gourd Artists in California and along the west coast, yet she always rejected the title of "mentor," still keeping to the shadows, still promoting others over herself. That was her way, to encourage and empower others, and to take no credit of her own.
I know that some of my relatives disapprove of me airing our "dirty laundry" in such a public venue. But I believe that you cannot appreciate Lois' achievements without knowing about her failures, that to understand her strengths you must also be aware of her weaknesses. She wasn't a saint. She was human, and mortal, as are we all. But it is within her humanity that she truly shined, and that we can recognize and discover just how special she was. She was caring, yet judgmental. She was stubborn, and forgiving. She was a feminist, who addressed letters to her married friends and granddaughters to "Mrs. …" whatever the husband's name was. She was an amalgam of contradictions, and yet somehow they all managed to fit into her unique slant on the universe.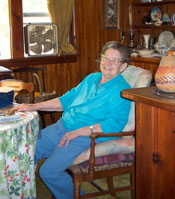 In her lifetime Lois saw three generations of her family grow and prosper. She saw this church that she and her husband founded over 60 years ago continue to serve its local community and to strive for positive social change around the world. She saw students she taught as children in elementary school grow to pursue their lives and have children of their own. And she later saw adult students learn to master pine needles and gourds and palm leaves and raffia, taking so much organic junk and turning it into art, expressing their individual imaginations and creative spirits with infinite diversity and boundless joy.
It's true that we are gathered to mourn the loss of someone dear to us, but let us also celebrate the love and warmth and happy memories we have of our time with Lois. The truest legacy of her life is assembled here today, reflected in the many lives that she touched. And for myself, I can think of no better tribute to her memory than to continue onward, lighting the way for others with joy and compassion as she has done, until there is no darkness left for anyone.
Bronwen Aker
April 5, 2008

In lieu of flowers, the family asks that you make a donation to one of Lois' favorite charities: