As you probably know, the Station Fire in La Cañada/Flintridge has wiped out Big Tujunga Canyon. It grew from 5000 acres to 35,000 overnight. And my house was right in the middle of the fire storm. But miracles still happen, apparently. Against all odds, my cabin is still standing. Other residents, my long time neighbors, were not so fortunate.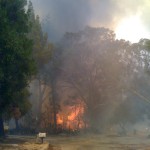 The picture on the right shows a cabin two lots away from mine going up in flames. When I first saw this image in my e-mail this morning, I felt certain that my home had suffered the same fate. I could not imagine that anything would survive a fire like that.
The fire storm was like something out of the Old Testament. For two days the fire line sat at the top of the canyon, near Grizzly Flats, moving slowly, if at all. Then, early yesterday morning, it changed its mind. It's almost as if the fire sat there, scoping things out, biding its time. Then it pounced, moving with ferocity and fury unlike anything I have seen or heard of.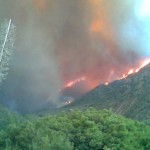 The fire came down the canyon like a wave of flame and smoke, creating its own hurricane of heat and ash. When I left my home behind I could barely see my hand in front of my face for the smoke. All I had with me in the car were clothes, my laptop, and my dogs and cat. I remember thinking that these few things may be all my worldly goods. I also remember thinking that this was what it is like to walk away from everything you've ever loved.
I couldn't leave without looking back. The picture on the left shows my last view of Big Tujunga Canyon. I pulled off the road to snap this shot using my cell phone, in spite of four CHP squad cars trying to herd me out. Others stopped, too. I met up with four other residents at the lookout near the bridge. All of us were stunned, grasping for words as we watched the canyon we love turn into an inferno.
Since leaving the canyon, life has been a roller-coaster. Hope that my house survived would bubble up, then plummet into shock and numb despair upon hearing a news report about the massive losses this fire has caused. My uncle and I drove out to Tujunga to try getting into the canyon, just to find out once and for all whether or not I was homeless. But the fire is still raging, if not quite as ferociously, so we were turned away, questions unanswered.
We found the Red Cross Disaster Relief Center in Tujunga, and I found a couple there whose house was up the street and across the creek from mine. They had watched their home burn, and they were sure that mine had succumbed, as well. So I registered with the Red Cross, and we went and got lunch. Then, while driving back to my uncle's, my phone rang.
It was another neighbor, my next door neighbor, calling me to tell me that miracles do happen, and that my cabin and his, and the one next door where his sons live, all had been spared. The fire had been ferocious, and it had been capricious, leaving behind pockets of cabins in the midst of smoke and ash and desolation.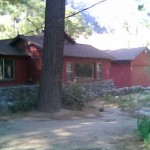 I don't know how bad the damage is, or how long it will be before I can begin repairs, but I will keep you all posted.
~ B ~
P.S. This is the cabin before the fire…   >>>