I know it's been a while since I've sent out an update. I've been gradually settling into my new life, trying to figure out what to do and how to do it. Overall, things are progressing. It just seems very slow and difficult at times, more so than I ever expected.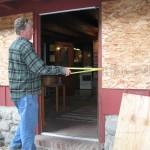 The cabin in Big Tujunga Canyon is boarded up and sandbagged. Now all I can do is wait and pray. The BAER team's plan to protect my cabin and others that survived the Station Fire was shot down by Forest Service bureaucracy. The recommendation had been to put k-rails, large concrete beams often used on freeways, in place to deflect the coming debris flows. Unfortunately, the local Forest Supervisor, who has a long history of anti-resident activities, ordered a re-evaluation of that part of the BAER plan. That re-evaluation shot down the BAER Team's recommendation and made no alternative recommendations.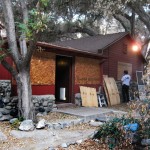 In short, those of us who survived the initial destruction of the fire have been left to fend for ourselves. It's not bad enough that analyses of the Forest Service's actions have shown that they allowed the Station Fire to get out of hand  through sheer negligence. Now they're doing everything they can to ensure that the remaining structures are destroyed in the aftermath.
Moving along…  It's hard to believe, but I've been in my new place for a month now. If anything, it seems the dogs have adjusted to our new home better than I have. Too many changes, good and otherwise. For example, even though I'm in a quiet neighborhood, the noise from neighbors, air traffic, and street traffic is distressing to me after eleven years of living in the forest. Ditto for street lights. And the smell of chlorine in the water.
On the flip side, I've gotten AT&T's U-verse for my phone, TV and Internet. I still haven't gotten used to pausing "live" shows, but I really like the fact that I can have my landline and cell phone ring at the same time when a call comes in. Then there's the fact that I'm only a few minutes from the grocery store. Or about half a dozen shopping malls. My conditioned responses are still based on being removed from all these conveniences.
I'm also having to learn about lawn care, and get used to living with hard-wood floors again, but overall it's a good thing. Strange, but good. I think. Of course, I realized earlier this week that part of my hesitance to hang anything on the walls or unpack things that need to go on shelves stems from a basic disbelief that I'm going to stay here long. Consciously, I know that I'm likely to be here for at least three years, maybe longer, but unconsciously I'm waiting for the next evacuation call. Ain't PTSD grand?!?!?
On other fronts, this week has been a hard one for my entire family. My uncle Franz, Nana's second child, shot himself on Wednesday. He was 65 years old, being a year and a day younger than my mom, Kathi. Franz is the third member of my family to suicide by shooting himself. The first was my cousin, Cord, in 1997. The second was his mother, my aunt Lisa, in 1998. I'm just so very grateful that my grandmother did not live to see this. In life she was adamantly anti-firearm. To have lost two children and a grandchild in gun-related suicides would have been devastating to her.
Franz is survived by his wife, Shirley, his three daughters, Whitney, Gabrielle and Melissa, and five grandchildren. The funeral will be on Thursday in Mt. Shasta, CA, where Franz and Shirley have lived for numerous years.
That's all the news that's fit to print. Here's hoping that the rest of the year is uneventful, and that the coming year is a better one.
Love,
Bronwen