Ninety-six years ago my maternal grandmother, Lois, aka "Nana", was born. It's hard to believe she has been gone for eight years now. In some ways it seems like a lifetime ago since she and I would sit in the "den" of our cabin, sipping our coffee in the morning while she read the newspaper and I read articles on the web.
Nana died in March, 2008, and I was thinking about some of the things she has missed.
First, she missed seeing the election of the first black American President. She had watched Barak Obama's political career for years and frequently commented on how he was being groomed for important things by the Democrats.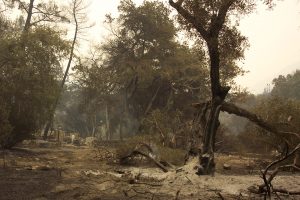 She also missed seeing the mountains she loved get burned to cinders in the Station Fire in August, 2009. That wildfire remains the single worst wildfire in Los Angeles County history. Moreover, around 80% of our neighborhood was incinerated, with dozens of homes lost, not to mention horses and uncounted wild animals. I've said many times that if she had not passed, the Station Fire would have killed her.
She missed the death of her oldest son, Franz, who suicided in December 2009. Franz was a retired Lt. Commander who had a long and distinguished career in the Navy, specializing in air traffic control. He was survived by his wife, Shirley, and three daughters, Whitney, Gabby and Melissa, not to mention a number of grandchildren.
Franz's death would have been an especially hard blow for her because she had already lost both a grandchild and a child to suicide years before. Those deaths haunted her till the end of her days, taking a horrible toll on her health and happiness in those final years.
So many things… It's difficult to keep count.
As I get older I find myself becoming more and more like her… in some ways. I still have a far more volatile temper than she did, and she never managed anything more technical than an electric typewriter. But she was the most intensely liberal person I knew, and I get more so the older I get. She was also the most stubborn person on the planet! Like I needed any help with that…
But the years I spent taking care of her, living with her as roommate and caregiver, granddaughter and companion, remain the best years of my life. Oh, they were hard years! If I never see the inside of a hospital emergency room again it will be too soon! But they were good years, too, filled with conversation and sharing the likes of which I had never known before and have not known since. I miss those quiet chats, those long discussions that ranged from the weather to politics to science to basketry to family to computers and on and on and on…
Not a day goes by that I don't think of her, wonder what she would say about this or that. Sometimes I just miss having someone to talk to.
Happy Birthday, Nana. Wherever you are, know that you are still loved and remembered fondly.
~B~