I met a wolf-pack today!
Earlier this month, the LA Times published an article about a sanctuary for wolf-dogs, dogs who have been cross-bred with wolves and sold for reasons that had nothing to do with what was best for the animals involved. The sanctuary is called Wolf Connection, and their location is a short drive from where I live. Better yet, they have guided tours of the sanctuary where you get to learn about the wolf-dogs, their histories, and spend some time with these amazing animals.
Today's adventure at Wolf Connection could not have been better. The weather was warm, but with a light breeze. The staff were friendly and helpful. The surrounding hills were green with tress budding and wildflowers starting to bloom. And the wolf-dogs were amazing!
I had never met a wolf before, pure blood or otherwise, so this was very much a new experience in that regard. But I know dogs, and enjoy their company, and these dogs were… well… really cool animals!
We pulled in through the gate, which led a short distance to the parking area. Once parked, the members of today's tour gathered next to a stone-sided building, and a short while later we moved down to "the arena" for the "opening council." The council consisted of us finding out more about the sanctuary, how it all began, and about the wolves and wolf behaviors. Then we went around the circle, sharing our names and (in one word) why we came.
(My word was "discovery.")
Then we walked over to where the wolves are kept. Each wolf lives in a fenced-off area that is more spacious than many residential yards I have seen. They have a shelter that resembles a short adobe house, plants, rocks and plenty of places to hide if they aren't feeling sociable. Our group was fortunate in that even the shy ones peeked out, if only briefly.
We went down the lane of enclosures, taking time to stop at each one to see the resident(s) and to learn something of their history. Part of this also involved learning to see the differences between wolves and dogs, and how to see whether a dog was "high content" (aka mostly wolf) or "low content" (aka mostly dog). A lot of part of this part of the tour was about the lessons each wolf dog has to learn as part of their own recovery from whatever misfortune they have suffered in the past. We were also told about how their recovery is used to help teach children who participate in Wolf Therapy™ programs held at the Wolf Connection ranch and elsewhere.
That's a big part of what made the day different from your typical "let's go for a hike" type of excursion. All the wolves at Wolf Connection are rescues. Many were abandoned, abused, feared, and fearful when they first arrived at the ranch. So the wolves are not just there to help provide therapy for the at-risk children who come to visit. They are there to recover from their own traumas, and to grow and heal themselves.
When we got to the bottom of the lane, and before we were allowed to meet the most friendly of the wolf ambassadors, we were given additional instruction on wolf etiquette and how to best behave when entering their domain.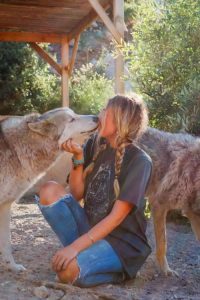 Then, under adult supervision, we were allowed into the enclosures of several of the wolves in groups of no more than five visitors at a time.
This is the tough part – how to describe what it is like to meet a wolf. Because all dogs are descended from wolves, it was kind of like meeting a bunch of very husky-like dogs. But the differences are also obvious in both their behaviors and physiology. Wolves have more elongated heads than most dog breeds, and their legs tend to be more long and lean. But it was more than that. There was a hint of something alien, aloof, and watchful that you won't find in most dogs. One of the staff mentioned that wolves are kind of like cats in that they will either accept you, or they won't, and when they are done they just walk away. And they did.
After our initial meet-and-greet time with the wolf ambassadors, we gathered next to a stream not far from from the wolf residences. Then we went on a short hike along a well-traveled and maintained path, stopping after a bit to spend more time interacting with the wolf-dogs. Then we hiked back the way we came and held the closing council.
For the closing council we were asked to share in one word something we were taking with us, or something we were leaving behind. My words were Hope (taking with me), and Respect (leaving behind).