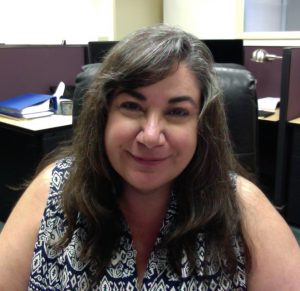 Hello, and welcome to my website/blog. In case we haven't met yet, my name is Bronwen Aker, I was an Internet professional for over 20 years and have experience in web design and development, technical training, and public speaking. These days, however, I work in cybersecurity. The transition started in late 2016 when I returned to college full-time to pursue a degree in cybersecurity.
In 2017 I applied for and was accepted  into the  SANS CyberTalent Immersion Academy for Women for 2017. Courtesy of that program, I now possess three GIAC certifications related to cybersecurity. After I give my brain a rest, I will tackle more certifications, but these are a pretty good start, IMO.

When I'm not studying my brains out, I also write, teach people how to use their computers, and take my fur-kid for walks in the wilderness.
Other minutiae includes the following:
I'm a geek, and have been since long before it was cool.
I'm a well-trained human, equally fond of dogs, cats, birds, reptiles, and other critters of various shapes and sizes.
I like Star Wars and Star Trek.
Of course Han shot first.
The Answer is 42.
Beer is proof God loves us and wants us to be happy.
Scientific method can be applied to anything.
You can find out more about me by viewing my LinkedIn profile. To contact me, you can send me a note via the Contact page on this website.
Cheers!
B
Updated: July 11, 2018